I came across this video the owner of the ExplainingComputers YouTube channel and found it to be a good example of ways your system can attempt to find your needed drivers and to locate drivers that your system didn't automatically find.
Linux Survival Guide #3: GPU Drivers & Printing
Click the graphic above to view the video.
NOTE: There are many useful links below the video, in the Description area, to other helpful videos by this creator. Be sure to look at their titles. You'll probably find others there you'll want to see or bookmark.
The video's creator walks you through various ways to find and install both graphics and printer drivers, sometime showing several ways to accomplish the same thing, if it doesn't work at first, or to see if a driver that doesn't totally work can be replaced with different driver.
Here are the chapters in the video. On the video page you can click a timestamp link to go directly to that part of the video. Those timestamps are show below. You can also click right here to go to a specific chapter of the video.
Chapters:
00:00 Introduction
00:39 Drivers & GPUs
06:00 Printing (auto setup)
08:32 Manual installation
13:43 Manufacturer drivers
16:17 TurboPrint
19:14 Wrap
In the Printing section of this video, the video's creator refers to the url below as a way for any user to interact with their local pc's administration page, as another way to help your system locate a needed printer driver. When you click that link, you'll be prompted to enter your distro login to access your pc so it can look for additional printer drivers, if you're still searching for a printer driver.
When you click the link below, you'll see a page like this, or at least this is what it looks like on my end. I suspect it will be similar for you.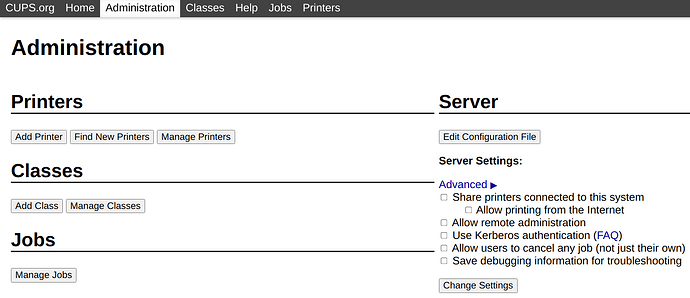 Clicking this link will open the page below in a new browser tab. It will be accessing your machine. If you wish, you can do that when you get to that part of the video.
http://localhost:631/admin