Bible Apps on Linux
Introduction
Many Bible study enthusiasts out there (I am one of them) will be used to using programs like E-Sword (Windows), or OliveTree (Windows, Mac, iOS, Android) or Logos (Windows, Mac) Bible Study App, and MySword (Android)
These are few examples of excellent resources in which many folks have a significant investment (I am one for instance with OliveTree).
This introduction is not mean to be a guide for Pastors or deep study Bible students, but, it should give you a good place to start. For me, at a minimum, I want what I consider a reliable, more literal translation, that has translator notes and links to the original languages and what those manuscripts were (for the most part). Bible students of good heart may disagree on these choices, but, generally there is enough out there to satisfy even the most serious students.
Bible Study applications are a mix of free versus purchased. Many of the English resources are now in the public domain (at least here in the US). For instance the King James Version is available for free along with the Strong's dictionary numbers which link to definitions of the original Hebrew and Greek. There are also a number of translations available in dozens of other languages as well, which are generally available as well. In general this is quite rich area and there have been those who have given of their time and money to create applications to make what we consider the Word of God available easily to those who wish it.
There are also a great number of commentaries available. For instance Matthew Henry's Complete, and Concise Commentaries are now in the public domain (and are quite helpful and are linked based on verse by verse basis). Charles Spurgeon's writings are also available, as are John Wesley's and many others.
A good Bible study app will allow the download and linking of these. Of course you will always have the same kind of online resources you have previously been used to, but, will have a much nicer experience since you will be accessing them from Linux

Free Bible Apps on Linux
There are a couple of nice applications available that come to the surface immediately: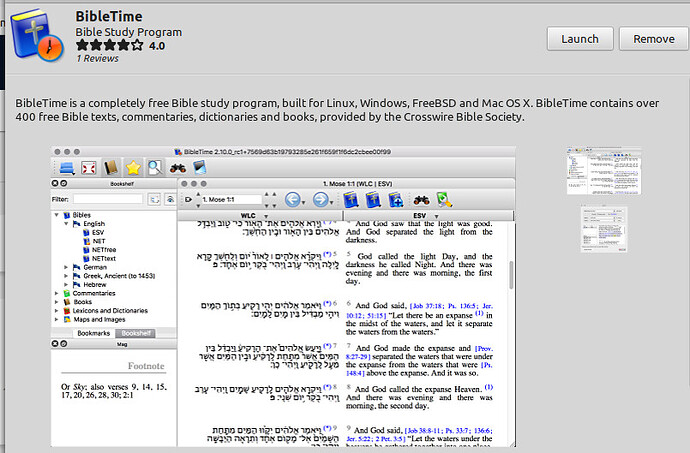 Either or both of these free applications will get you going. You will need to download your choice of translations, commentaries, and references to start with.
There is a chance that it will be possible to run your purchased Windows Bible Study application like Logos using the WINE application compatibility layer, but, this is currently a "works-in-progress" for me and I hope to report more on this later.
I hope this gives you a couple of choices to get going and I will give some other examples in subsequent posts.